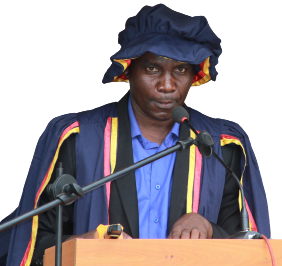 REGISTRAR'S REMARKS ON THE 8

th

GRADUATION CEREMONY OF ST. JOSEPH VTC KAMULI SCHEDULED
28th. May. 2022
Our Chief Guest, All invited guests in you campacty, The Rector/ the Principal Fr. Ntunzwenimana Ferdinand, all staff members, parents, Grandaunts, students, well wishers, protocol observed. Am very delighted that you have honored our invitation on this great day as St. Joseph Vocational Training Centre celebrates its 8th Graduation.
Our dear Chief Guest, today the 28th. May. 2022, our students who successfully completed and met the required standards of UBTEB and DIT from the year 2018 to 2021 are now eligible to Graduate, a total of 1,125.
| | | | |
| --- | --- | --- | --- |
| | MALE | FEMALE | TOTAL |
| UBTEB | 215 | 119 | 334 |
| DIT | 413 | 278 | 791 |
| TOTAL | 628 | 397 | 1125 |
During training, our students are exposed to hands on training where they gain great experience that makes them easily get jobs. Great thanks goes to Uganda Business and Technical Examination Board (UBTEB), and Directorate of Industrial Training (DIT), the examining boards, thanks for the great work you do for the nation,
Our graduands are in the following trades/course;

Wood work Technology
Fashion and garment Design
Electrical Installation system and Maintenance
Plumbing
Automotive Mechanic
Agriculture
Business Management
Accountancy
Cosmetology and body therapy
Hotel and Institutional Catering
Solar Energy
Building Construction
To the heads of schools present, we give career guidance to the candidates at no cost as a way of guiding them to make sound decisions that will enable them have a bright future.
I would like to congratulate the grandaunts, the parents and guardians, this is your day. Our dear parents have struggled and endeavored to meet the school requirements, meet tuition in time, provide for their necessities, sacrificed all they had , for their children to see to it that have a bright future. May God bless you.

Our Chief Guest, I would like to bring it to your notice that all training has been possible due to the tireless efforts of our instructors; they are very determined, hardworking and well trained to equip the learners with the different skills. Great appreciation to teaching and non teaching staff members.
At this juncture allow me call upon the heads of departments to come forward and present the grandaunts to the Chief Guest for award ceremony;
Isabirye Eriabu – Agriculture
Aliwayoki Josephine – Building construction
Okiling Stephen– Automotive Mechanics
Okello Ambrose – Fashion and Garments Design
Tibenkana Hafizu – Electrical Installation/Solar
Apolot Bianka – Plumbing and Welding
Mukasa Abdullah – Woodwork Technology
Njuku Peter – Cosmetology
Nabifo Suzan – Hotel and Institutional
Namwase Abigail– Business Management & Accountancy
Thank you all for coming to witness the Graduation and I do wish you journey mercies as you go back.
God bless
JJENGO FRED
ACADEMIC REGISTRAR.
NO PAIN NO GAIN
FOR GOD AND MY COUNTRY